Donations At Work
Supporters of the performing arts understand that music programs are an essential part of our educational system.  Music provides students with a means to self-expression, creativity, camaraderie, individual as well as team-work, and even cross-cultural exposure.  Music is something to be studied on its own merits.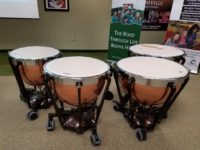 TIMPANI
Purchased in 2017 for $12,049 for the Zionsville High School Orchestra & Band.
Website design funded in part by a grant from the Community Foundation of Boone County.
© 2019 Play On Zionsville
PO Box 5084, Zionsville, IN 46077
Website maintained by